I am addicted to buying planners this time of year. Super-addicted. I love them and I use them and they make me money. So why wouldn't I love them, right?
The last few years, I've compiled a list of cool planners that you might like for your business. If you have another planner you love, let me know in the comments and I'll add it. 🙂
Here you go…
---
1. Leonie Dawson's "Create your Shining Business and Life" Planners

Why do I love planners? Because they work!
That's why we create so many of them at CoachGlue.com. There you can get specific planners for everything from social media to launching your next workshop. But we'll get into that in a sec.:)
But the big question is how do you plan what you want your business AND life to look like next year? Like the whole enchilada?
I make planning this a priority every year and it's worth it for several reasons.
Taking the time to think about what I want allows me to actually figure out WHAT that is so I can achieve it.
"What's important to me in the next year
and what do I really and truly want in my business and life?"
I like to start by designing my life first as much as possible.
So I'll ask you now. What do you want your life to look like?
For me, it looks like this:
I want to be able to go to my daughter's shows, pick up my son at college whenever he asks, go on a walk with my hubby, run to the Gulf of Mexico to have lunch or walk the beach, get a massage in the middle of the day, without having to worry about it impacting my business or feeling guilt.
I want to travel and be outdoors as much as possible.
I want the flexibility to go to yoga classes whenever I want. (Get it? Flexibility. #badpun)
I want to be able to make healthy home-cooked meals every day and have time to enjoy reading a good book when I want to.
I want to be able to have a housekeeper once a week to help keep my house clean and fur free. Or at least as fur free as you can get with three crazy dogs.
Once you figure that part out, the next step is to build that into your business so that you have the flexibility, freedom and finances to be able to do those things.
It might mean outsourcing smarter or cutting back on some tasks and focusing on the things that make the big bucks. Heck, what ARE the big bucks to you? Does that mean $5,000 a month or $5,000 a week or $5,000 a day?
To achieve that, does it mean more clients or less clients or no clients? Or perhaps restructuring what you offer your clients. Does it mean creating a group coaching program or getting rid of ongoing commitments. Does it mean investing in some coaching or paid FB advertising? Maybe it means cutting a project completely that is just causing stress and doesn't bring in enough profits to make it worth the energy.
These are all things to think about.
I made this graphic back in 2014. And it still holds true for me.
"Without a plan and accountability, a dream becomes a memory rather than reality." – Nicole Dean
And that's why I use *this* planner every year. (click to check it out.)
Many of my readers already use this planner and love it. Actually over 250,000 people use it. Maybe you've already gotten yours and have been doodling in it. (I have!)
Personally I highly recommend that you get a copy of at least the life planner if you haven't yet. The business planner is great, too, but you may have something already that you're using for that.
Although… if you're a planner addict like I am, you may want to grab both. I did.
These also make great gifts.
For your favorite entrepreneur
For your top coaching clients
For your team
For your top affiliates
For your mentors
For your vendors
What better gift than the gift of spending some time figuring out what your dream life and dream business could be. So they can go make that happen. They won't get the planners in the mail on time, but you can send them a card with a note that it's on its way.
-> Check them out. You'll love them. I sure do!
It's definitely a bit woo-woo. But, like I said, it's awesome if you want to do a lot of visualization and planning for 2017 – and especially if you're creative and want to have a keepsake to look back on at the end of the year when you go "LOOK AT HOW I ROCKED IT! I'M AWESOME!!!"
Here's my planner in the airport in January 2014 two years ago as I was working through it during a layover:
This gets a big recommendation from me. The whole system is broken down into weekly, monthly and annual planning and I recommend you work through it with your business coach.
-> Check out the uber-popular Business & Life planners here.
Here's a sneak peek at the "Shining Life" Table Of Contents:
Personally as I mentioned, I love the Life planner even more than the business one, but that's because it's easy for me to focus on work, making big huge goals, and working towards them. However, I don't take enough time to think about what things I want to do for my health, my home, my relationships, etc. So, this gives me that moment each year to look back and then to look forward with renewed purpose.
Here's my "looking back" at my year (and that is so not the color green of my walls – wow that looks bright in this pic) :
For instance, in the beginning of the year I wrote that I wanted to go to Latvia again this year. Voila. Mission accomplished. I got to see my daughter and my adorable grand-baby for a few days. It wasn't long enough, but I made it happen.
What are you going to make happen in 2017? If the answer is "I don't know yet" then start thinking about it. Whether you get the planner or you use your own system, I highly encourage it.
If you would like to listen to my interview with Leonie, you can do that here: Nicole Dean & Leonie Dawson Chat About Goals and Success
---
2. Daily Greatness Journals
They have a bunch of really focused journals and planners depending on what you need.
The options include:
Dailygreatness Business Planner: An Actionable Plan For Exploding Your Business
Dailygreatness Journal: A Practical Guide For Consciously Creating Your Days
Dailygreatness Parents Journal: A Practical Guide for Raising Conscious Kids & Creating a Happy
Dailygreatness Wellness Journal: A Holistic Guide for Health, Wellness & Vitality
Dailygreatness Yoga Journal: Your Masterplan for a Beautifully Conscious Life
Dailygreatness Training Journal: 12 Weeks to a Rocking Fit Body, Mind & Spirit
I'll definitely be grabbing a few of these, too. The nice part about them is that the dates are blank so you can start any time. It's not a Jan 1, 2017 start date.
The Business Planner sounds really awesome. From their site:
With a unique combination of an undated yearly planner (you can start anytime), finance & budget worksheets, goal, action & appointment planners and the best personal development tools, distilled down into a simple daily, weekly & quarterly structure, this powerful tool will support you in creating the habits of a Peak Performer.
-> You can check those out here.
---
3. Bullet Journal (Create your Own Planner)
Another option is to do all of your planning in a bullet journal. Basically create your own planner.
It's described as a mixture of a planner, a diary, and a to-do list and is pretty simple and flexible. All you need is a notebook and a pen although people tend to go crazy with their bullet journals, so they can also be entirely complex as well.
They've always seemed like a lot of work, so I just use my legal pads for day to day tracking and planning.
However, I know you might love them, so hence they are being mentioned.
-> This is a really great article about how to get started with one. 🙂
---
4. Your Very Own Planners that YOU Can Customize to Be Exactly what You Need? (Oh, and you can sell them too!)
Planning your Best Year Ever.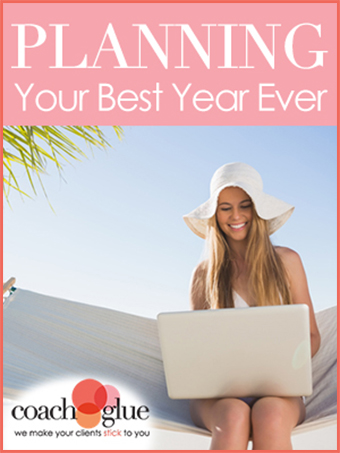 If you want to have your OWN planner that you can create a coaching program around and sell, we've got that covered for you at CoachGlue.com.
You get the planner in .doc format right away and then you can dig in, add to it, and turn it into a planner that you use when working with clients, create a coaching program around it, and/or sell it from your own website.
How do you make it your own?
Get a new cover (you can do that on Fiverr)
Change the colors
Add an "About you" page
Infuse some YOU into it. Your stories. Your examples.
Add a few more exercises
Insert a few book recommendations (Might I recommend this one?)
Include a call to action at the end
Voila! You have a totally unique planner that you can sell to your audience or use parts of it as freebies to grow your lists. It's up to you.
-> Grab this "Done for Your Business" planner. 
On the business side, you might also like this one:
Cash Calendar: Your 12 Month Marketing + Profit Plan!
No more writing content from scratch or paying a ghostwriter hundreds or even thousands of dollars to help you develop your training content. This workbook is the perfect tool to strategically map out your marketing and profit plan for the next 12 months so you'll never have to wonder which product to promote next!
Using this package, you can coach your clients 1:1 or to a group through a live mini class or recorded ecourse program, and walk them through the process of creating their next product. Or, you can use this package as a lead generator to build your list – simply set up an opt-in page, monetize this package with your information and offers, and give it away to the people who sign up for your mailing list.
You get all of this Done-for-You content in .doc format so it's ready to use. You can customize it as much (or as little) as you would like.
This is what is covered:
Review Last Year

Exercise: Record Your Year-End Stats

Set Your Goals

Exercise: Set Your Goals for the Year

The Big Picture: Holidays and Special Events

Exercise: Fill In Your Calendar with Big Picture Holidays and Events

Plan Your Products and Programs

Exercise: Take Inventory
Exercise: Schedule Your Promotions

Complementary Products to Promote

Exercise: Schedule Complementary Promotions

Your Next Six Weeks

Exercise: Plan Your Marketing

You Can't Do it All

Exercise: Schedule the Team

Keep the Momentum Going with Regular Reviews
Click here to check it out if you'd like
---
What did I miss?
But what other planners do YOU love? Do tell. I'm excited to hear about them.
I have to go. I have some awesome stuff to plan. 😉
Warmly,
Nicole
PS. If you want to grow your list, be sure to watch this free webinar about using LeadPages effectively.